What to do when moving house with pets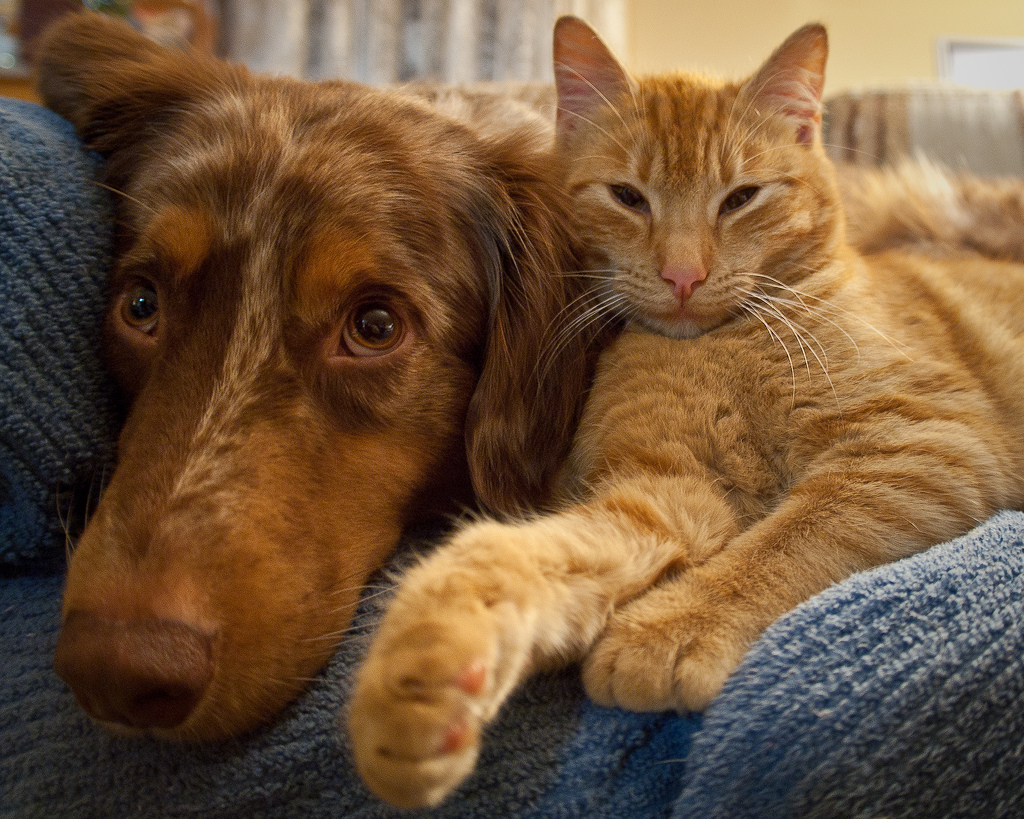 Moving house is a stressful time for humans, and that can have a big impact on your family pet. They may find the move disorienting or find it hard to settle into an unfamiliar home. Here's how to make your house move with pets a success, whether you're moving house in the UK or abroad.
Before you move
Find a pet-friendly area
Before your move, take time to check out your new postcode. Is there a vet nearby? Are there plenty of green spaces to walk your dog or are there any major roads that might be a danger to your cat? You wouldn't move into a house that wasn't child-friendly with young children, so take the time to make sure the new environment is suitable for your pets.
Ideally, any outside space will be fully enclosed, safe and secure. If not then leave your pets with family and friends or in kennels until you've made sure that your new surroundings are fully pet proof.
Pack gradually
It's always tempting to leave the packing until the last minute, but if you have pets you'll need to pack as gradually as possible. Start a few weeks beforehand so you minimise the disruption and don't make your pet nervous. Cats, in particular, get very anxious when they think a big change is coming so don't do everything in a last-minute rush.
If your pet has a favourite room in the house, make sure you leave it until last. This is their safe space to retreat to, so keep it as it is until the very last minute.
Update their chip
Your cat, dog or any other family pet with a microchip will need to have their database details updated as soon as possible. Don't forget to have a new ID tag engraved for your dog. Should your pet manage to escape and go walkabout, you'll be able to trace them as quickly as possible.
On moving day
If you can organise for friends and family to look after your pet on moving day, so much the better. Otherwise, it's important you stick to your feeding and walking routine and then place your pet in their favourite room until the removals van arrives – don't forget to leave food or treats, water, toys and their bed or blanket and let the movers know where your pet is.
If you're travelling with your cat, dog or rabbit then invest in a good carrying case or cage to make sure your animal is secure during the journey. Rabbits, in particular, are sensitive to heat stroke so try to keep the temperature in your car under 23C degrees. Keep the vehicle well ventilated and take stops if you can to exercise your dog.
When you arrive, unpack a room with your pet's familiar toys, bed or blanket. Open the door of the pet carrier, if you're using one, and let your pet explore their new surroundings at their own pace. A pheromone spray or plug-in is effective for calming pet anxiety.
After the move
Introduce new surroundings slowly
When you're moving house in the UK there's always the fear that your pet will try and return to their old home. If you can get your cat used to a leash then use one to introduce them to the outside. Otherwise keep your cat inside until you're sure they're comfortable in their new surroundings.
Introduce your dog to their new outdoor surroundings on the lead, letting them sniff and even dig if necessary. Don't scold and keep to your routine exactly as it was in the old house. Let your pets discover at their own pace and be patient – it may take up to a month for a rabbit to become acclimatised to their new surroundings. Routine walks and feeding times, familiar objects, and a calm atmosphere will all help to settle your pet into their new home.
Scents and smells
Most dogs live life through their nose, so help your dog to feel at home by building up a familiar scent profile in your house. Wipe a cotton cloth gently around their face and then dab on the walls at nose height. Gradually build the scent until your dog begins to bond with their new territory.
Ever heard the tale about putting butter on a cat's paws? The theory is that by licking off the butter your cat will lick away the scent of their old home. In practice, you're more likely to have an agitated cat leaving greasy paw prints all over your new house.
Moving house abroad
Moving your pets to a house abroad takes exactly the same patience and attention to detail as moving house in the UK. However, you will need to check that your pet is allowed into your destination country – rodents can't enter Australia, for example – and that your animal's pet passport and vaccinations are up to date. If in doubt, always ask your vet about entry requirements to your destination.
Moving your pets outside the EU can be quite complicated and you may prefer to use the services of an animal relocation company to ensure your pet travels safely. Make your pet comfortable with a pheromone spray and their familiar toys and your foreign relocation should be a breeze.
Whether you're moving in the UK or further afield, Ants Removals are experts at relocations with or without pets. Why not contact us today to see how we can help you make your next move with pets hassle free?