Moving house checklist: things to do when moving house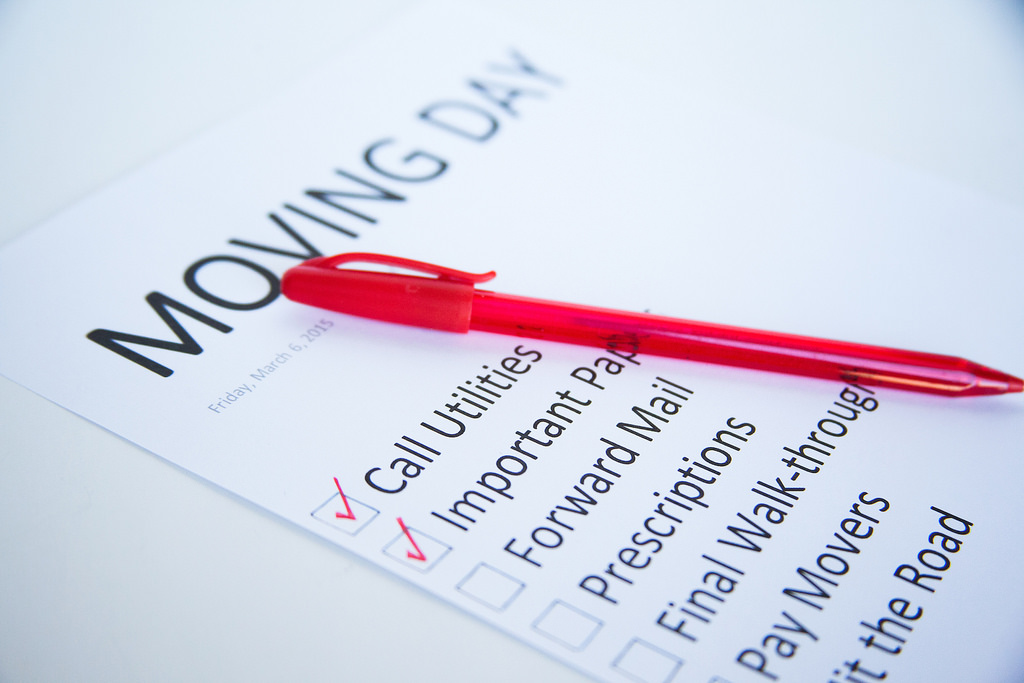 A survey in 2016, found it was the most stressful life event for people and it's no surprise why. Moving into a new home represents change and most people don't cope with change well.
However, with the right moving checklist at your side, you can relieve some of the stress and make the move much easier.
So here is our moving house checklist with some helpful packing and moving tips to help you take the stress out of moving.
Moving house checklist: As soon as possible
Before you even start to think about packing tips for moving, you need to ensure everything is established for the move. Ideally, this part of the moving checklist should be done six weeks before the actual move. However, this isn't always possible, but as soon as you know about moving home you should start on this list.
Confirm date of move
This is the most important piece of information. Without a completion date, you can't make any other arrangements for your move. Therefore, speak to those helping with your move and set in place the moving date.
Notify other parties of the move
One of the most important things to do when moving house is to ensure you've notified everyone of your move. If you're renting, informing your landlord of the date of your move is the first thing you need to do.
Then you need to look at informing utility companies of your move. They will let you know about any last minute information they need, but don't give them meter readings now. This comes later.
You should also contact the DVLA to tell them the latest news. It is really important to inform the DVLA about the change in address. Failure to do so can result in a fine. You can notify the DVLA in writing or on their website. This should be done as soon as possible as it can take four weeks.
Check insurance
On the top of the moving to do list should be to let your insurers know. Insurance is based on location, so your home insurance might increase or decrease after the move. You should let your home and contents insurance provider know the date of the move and collect the quote for the move.
In addition, be sure to contact your car insurers.
When you move home, the price of your insurance will likely change. You might also have to pay an administration fee.
Book a removal team
You should also look at getting a quote about moving home. Removal companies can get booked up quickly, so it's important that you arrange this early on.
TV license
Inform the TV licensing company about the move date and make arrangements for the switch. This ensures that you're covered watching television on the first night of your new move.
Check pets are cared for
One of the most stressful parts of moving is transferring any pets to the new home. Finding room for any pets in the move can be difficult and it's stressful for the animals as well as you. Sometimes it's better to book any animals into a temporary holiday home, like kennels, for the day before, until a couple of days after.
This allows time for you and your family to get settled and for you to unpack your belongings without having to worry about your pets. Once moved in, you can then set up their cages or areas and collect them. This is less stressful for the animals and you.
New furniture
If you'll require new furniture, carpets or other large items, you might need to order them early to ensure you aren't waiting for them after you've moved into your home. Most large furniture suppliers will be able to arrange a delivery date after you've moved home.
Two weeks before moving
As the move to your new home gets closer, the amount of work that you have to do will pick up. You might want to take more time off work to ensure you have enough time with the move. Here are some moving home checklist items for you to complete two weeks before the move.
Moving doctors, dentists and opticians
When you're moving home you might need to move who you go to for medical matters. If this is the case, you should inform the relevant services of your move and find new service providers. If you are seeing any outpatient services at your local hospital, ensure that your move doesn't affect who can provide your service.
Redirect your mail
One of the things that people tend to forget is to redirect their mail. However, this should be done as early as possible. You can go to your local post office and complete a redirect service request. This is a paid service but you can have post redirected for a year.
You can then use this as a way to identify anyone who has not yet changed your details after your move. A polite reminder should be all that is needed to get those details changed at a later date.
You can help reduce the number of people who might send letters to the wrong address by sending out a change of address card. This can be done via email, though this isn't always as effective as you might think.
Bank details
Just before the beginning of the final two weeks in your old property, ensure that you have put on your 'things to do when moving list' that you will need to inform your bank about the move. This is a vital step as there may be changes to direct debits, standing orders and addresses that need to be completed. And you will obviously need to update your address when you move.
Finalise details of your move
You should ensure you know the details of the move. Check with your estate agent or the landlord for the time you can collect the keys to move in. You should also know when those moving into your property need to have their keys by.
This can help you finalise details with your removal company about the day of the move.
Start packing non-essential items
Finally, now is the time to start packing. It's amazing how many people leave so much packing to the last minute, but the earlier you start packing, the easier it is closer to the move date. Suggested items for early packing include books, DVDs, CDs, board games and anything that you don't use regularly.
There are numerous packing and moving tips that you can read about, but the most useful is to ensure you create a master list of all your belongings and what box you've put them in. Labelling each box is also a great way to ensure you don't lose any items or become disorganised.
You should also pack one room at a time. This will help you unpack when you get to your new home quicker.
You can also check everything that you're packing to ensure you want it in the new house. Sometimes you can reduce what you need to move by getting rid of things in your house you haven't used for a long time. You can take items to a charity shop or sell them on Facebook, eBay or another online site.
Start planning last meals
Another thing to consider is the last few meals that you'll have in your current home. You want to ensure you're cooking as little as possible. You should also look at your fridge and freezer and try to use up all the items in them so you can defrost, clean and turn them off at least a couple of days before the move.
A few days before the move
By this point, you should be well through your moving home checklist. But there are still a few things to do when moving house. Try to ensure that you have as little as possible to do on the moving day to reduce any stress.
So, here are some of the last things that should be on your moving into a new house checklist.
Finishing packing
By now you should be packing the last of your items. For the last couple of days you should be able to live out of a suitcase or with just a few items of clothing and any other necessary items.
Large white goods like washing machines, fridges and freezers should be all disconnected and set for moving. Washing machines should have their moving bolts fitted while fridges and freezers should be cleaned out.
Food during the last couple of days can either be takeaway meals or out of tins and cooked. For the day of the move, it is best to have some cereal bars and ready-bought sandwiches on hand.
Move the pets
If you do have pets, you should move them to the temporary housing at least the day before. If you can, move them a couple of days before so you can have more time to pack and less time looking after them.
Cleaning
One of the final things you should do on the moving to do list is to clean the house. The people moving into your home will appreciate it and cleaning the house will help you find items you've forgotten about.
Cleaning should also include areas of your property that you don't often go in. This should include outside buildings like sheds, garages and also your loft. You might find items in these areas that you didn't realise you had any more.
As part of the cleaning phase, plan some time to go down to the tip and dump bags of rubbish that would take up space in your property on your moving day.
Moving day
On the day of the move you should have already finished your list of things to do when moving house. On the day of moving you can start to move boxes in the house to one location. They should all be labelled so you know what room they're supposed to go in when you get to the new home.
But once this is done, everything should be ready for you to move house. You just need to start unpacking, get everyone settled in, including pets and then relax.
We hope you have found our moving house tips and tricks useful. If you have any questions regarding this moving house checklist, don't hesitate to contact us.